2. Mai 2012
NYC Snapshots
No Ordinary City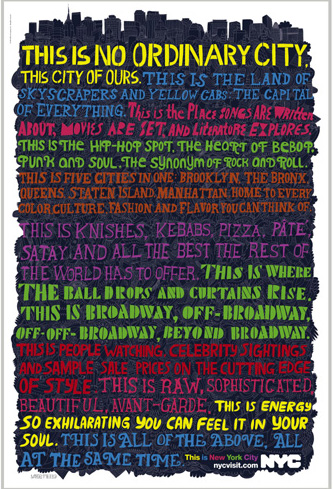 Poster – gefunden im NYC City Store: eine Stadt auf den Punkt gebracht:
#-#QUOTE#-#This is no ordinary city.
The city of ours.
This is the land of skyscrapers and yellow cabs: The capital of everything.
This is the place songs are written about, movies are set, and literature explores.
This is the Hip-Hop Spot, the heart of Be-Bop, Punk and Soul. The synonym of Rock and Roll.
This is five cities in one: Brooklyn, The Bronx, Queens, Staten Island, Manhattan. Home to every color, culture, fashion and flavor you can think of.
This is Knishes, Kebabs, Pizza, Pâté, Satay and all the best the rest of the world has to offer.
This is where the ball drops and curtains rise. This is Broadway, Off-Broadway, Off-Off Broadway, beyond Broadway.
This is people watching, celebrity sightings and sample sale prices on the cutting edge of style.
This is raw, sophisticated, beautiful Avant-Garde.
This is energy so exhilirating you can feel it in your soul.
This is all of the above, all at the same time.#-#QUOTE#-#
#-#SMALL#-#Bild: © NYC City Store#-#SMALL#-#